So I wasted an entire Sunday baking cookies and working on silly chibi-robots. XD Great fun, it was. Only ended with one animated rough draft and an icon.
( Silly robot rough draft )
In other news, I have more flash fiction to post, after I read through for awkward typos. And after I get over how inherently disturbing Abominus/Sixshot is. Yes, I went there, and

ultharkitty
encouraged me. :3
Editing to add: I continue to procrastinate.
Have a Hun-Grr.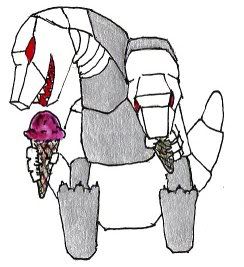 The best part about having two heads is the ability to eat two ice cream cones at once.