Still haven't been able to write. On bright side, have more ponies.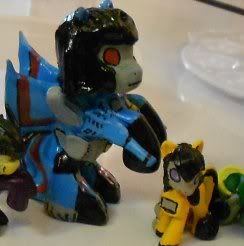 ( vv More robots under here, plus leery Predators, Alien!Pony, kilt!Pony, and one out of place steampunk!pony. vv )
I'm also debating signing up for the robotbigbang as an artist... but not really sure. I really only work in silly stuff (see above) and pencil. hrm hrm hrm.
EDIT:
The

robotbigbang
was too tempting. Also, have some more cartoon!Vortex shenanigans.
( Vortexes! All G-rated )